Over 50 five-star reviews on Amazon.com…and counting!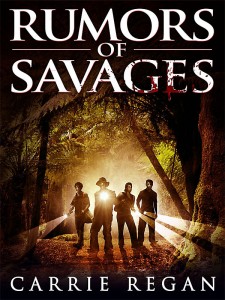 As a television crew searches an inhospitable African jungle for a missing anthropologist, a network executive in the US spins their daily dispatches into the media sensation of the moment.  Instantly, ratings for his network skyrocket.
But when members of the crew start disappearing, and evidence emerges that their lives are at risk, the focus of the story shifts, and the media machine turns on itself.
Read the novel inspired by Carrie's experiences on expeditions for National Geographic Television.
Click here to get the kindle version of Rumors of Savages and read the rave reviews.  Some excerpts:
"Rumors of Savages is a wickedly funny, fast-paced depiction of a journalistic quest to find a tribe of savage headhunters in the depths of the African jungles. Once I picked up this book, I couldn't put it down, howling my way through page after page."
"With our society so enamored with the "reality" of Reality TV, this book sheds light on the madness behind the machine. The personalities are so real, but what's more – even though the book is labeled "fiction," the STORY seems so plausible. THAT made it impossible to put down."
"I wasn't sure what to expect from this book, and I rarely write reviews. I finished the book in a few short hours because I simply could not put it down."
Find more details at www.rumorsofsavages.com.